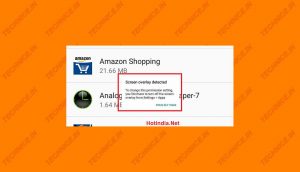 Screen Overlay Detected pop-up is a common and annoying problem, especially on Android Marshmallow phones. On opening some apps you may find this pop-up time to time. This problem is present in almost all devices from all manufacturers.
Before going to the solution let see what is behind Screen Overlay Detected pop-up.
What Is Screen Overlay Detected:
The Screen Overlay feature is a feature of Android smartphones which allows an application to show itself over other apps. Apps like WhatsApp, Facebook Messenger, Rocket Cleaner, Clean Master uses Screen Overlay features with this features you can reply to WhatsApp messages without opening the app or clean junk files from the device without opening the app. Screen Overlay Detected warning may appear when you install a new app which is trying to access this feature, or you have to give certain permissions to certain apps when they are seeking the same.
Major apps responsible for this are
Clean Master
ES File Manager
Security Apps like 360 Security
DU Battery Saver etc.
How To Get Rid of Screen Overlay Detected:
You can turn off Screen Overlay in easy steps follow the steps below:
For Stock Android Devices i.e., without any manufacturer specific UI
1. Open settings from your phone's menu
2. Scroll Down to Apps section
3. Click on Apps
4. Click either on the gear icon or the three vertical dots (Device Specific) at the upper right corner of the screen until you get the menu (See Image below)
5. Click the Dropdown menu and select All Apps
6. Now click on every app and turn off Screen Overlay for every app.
Screen Overlay Detected
For Samsung And LG Devices with custom UI
| | |
| --- | --- |
| Samsung | LG Device |
| 1. Open Settings | 1. Open Settings |
| 2. Tap Apps | 2. Tap Apps |
| 3. Tap three vertical dots at upper right | 3. Tap Apps |
| 4.Tap Special Access | 4. Tap Three vertical dots at the upper right corner |
| 5. Tap Apps That can appear on Top | 5. Tap Draw Over Other Apps |
| 6. Tap the switch off | 6. Tap the app causing error And switch off the Button |
| | |
| | |
Hope this guide helps you.
For devices from other manufacturers try to follow these steps, you can turn off screen overlay Easily.
Share with your friends.