[बिग लूट]Swiggy- Save Upto Rs 250 on Food Orders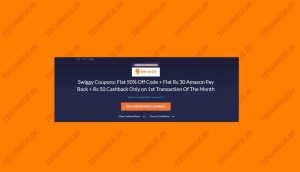 Swiggy Cashkaro Offer – Cashkaro is Offering Rs.50 Cashback on Swiggy Orders & Rs.25 On Signup. You can also avail Swiggy coupons & Amazon Cashback Offer. So it's a Triple loot. Just Visit Cashkaro & Order as you usually do.
You Can Combine Upto Rs.200 Amazon Cashback offer + Rs.50 Cashkaro Cashback + Rs.25 on Signup at Cashkaro + 50% Off Swiggy Coupon Codes & This sounds delicious to me. Let's see in details.
On paying with Amazon Pay, Customers will get a cashback of up to Rs.200 on a minimum purchase of Rs.99/-, applicable 3 times per user on Swiggy during the offer period.
Let's suppose you place an order worth Rs.150. ThenRs.75 Off Through 50% Off Swiggy Coupon Code + (Min)Rs.10 Cashback From Amazon Pay + Rs.50 Cashkaro & Rs.25 on Cashkaro Signup so. You Got Rs.75+10+50+25 = 160. So your total savings are of minimum Rs.160 on an order of Rs.150. So you get free food plus Rs.10 extra.
You Spend
You Earn
1.

Food Order Worth Rs. 150

1. Rs. 75 Off With Swiggy 50% Off Coupon
2. Minimum Rs.10 When You Pay With Amazon Pay
3. Rs. 50 Real Cashback With CashKaro
4. Rs. 25 From CashKaro As Bonus

You Spend Total = Rs. 150

You Earn Total = Rs. 160, So You Get Rs. 150 Food + Rs. 10!

For Free
Let's see how to avail this delicious Swiggy offer:
Follow some easy steps below and enjoy Swiggy Food For Free + Real Cashback From CashKaro.
Step 1. First Of All, Just Signup Into Cashkaro With This Link – You Will Get Rs.25 Signup Bonus (Bank Transferable).
Click This Link To Signup And Get Rs. 25
Note1. If You Sign Up Without The above link, you will not get Rs. 25 as bonus amount.
Note2. – If you already have a Cashkaro Account, Sign in to avail Rs.50 Cashkaro Cashback + Upto Rs.200 Amazon Pay money back.
Step 2. Now, VISIT HERE for SWIGGY Cashback offer page and click on to get redirected to SWIGGY's official website
Click Here To Go To Swiggy Special Offer Page
Step 3. Look for your food and place your order like you normally do on SWIGGY.
Step 4. Apply Coupon Code Given in Your Account SWIGGYIT For 50% off & more in Your Coupon Section.
Step 5. Make the payment through Amazon Pay to get upto Rs.200 Pay balance
Step 6. Come back to your CashKaro profile and go to 'My Earnings' on the top right of the
page to see your Cashback in Pending Status
(Note: This is XPRESS CASHBACK AND WILL BE CONFIRMED WITHIN 5 DAYS!!)
Step 7. Just wait for 5 days for your Cashback to get confirmed by us!
Step 8. The Cashback can be transferred to your Bank Account through NEFT.
♥Have Fun With Free Foods – Please Share With Your Friends♥
IMPORTANT TERMS & CONDITIONS
Upto 50% Off Code valid for orders over Rs 99
Flat Rs 50 CashKaro Cashback applicable for All Users on first orders of the month at Swiggy via CashKaro.
No minimum order value required to avail CashKaro Cashback.
There is no CashKaro Cashback on subsequent transaction.
Delivery charge of Rs 35 for Orders below Rs 99 and Rs 20 on orders of Rs 99 & above.
GST applicable
Not Valid for Swiggy App transactions
The Cashkaro cashback will be tracked in 24-48 hours and get confirmed within 5 days
Make sure you get redirected to Swiggy Website/ M-site through Cashkaro