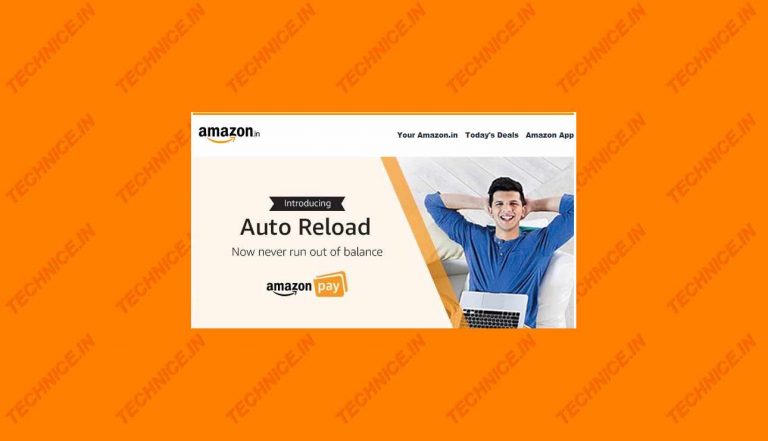 If you are an Amazon.in customer then you may also an Amazon Pay user. Since time to time Amazon India release new and attractive offers like 50% cashback on mobile recharges, Rs. 50 back on purchase products of value greater than Rs. 250 from Amazon.in, cashback on booking movie tickets and restaurant bills, loading coins at delivery and get 100% cashback through its payment platform Amazon Pay, many customers now using Amazon Pay for mobile recharge, bill payment of movie tickets and restaurants, and shopping on Amazon.in. Payment through Amazon Pay is easy and hassle-free too. Only you have to top it up from your bank account with Net Banking or your Credi or Debit Cards, each time your balance is low.
Now Amazon India released a new feature to Amazon Pay – Auto Reload, that means you don't have to top up your Amazon Pay balance time to time as your balance reduced manually. Enabling this feature your Amazon Pay account will be automatically topped up as your Amazon Pay balance lowered below your specified limit. Here is how to Set Up it on your Amazon Account.
How to Set Up Amazon Pay Auto Reload on your Amazon Pay Account :
From PC:
At first open Amazon.in from your browser and log in to your Amazon Account.
Click on Amazon Pay from the menu And in the Amazon Pay page Click on Set up Auto Reload and then click set up Auto Reload on the next page.
Amazon India Introduced Auto Reload Amazon Pay Balance
Amazon India Introduced Auto Reload Amazon Pay Balance
Choose your auto reload amount i.e., the amount you want to add automatically to Amazon Pay Balance when your balance will be low (The minimum amount is Rs. 500), and balance drop limit i.e., the minimum amount of your Amazon Pay Balance limit below which your Amazon Pay will be Automatically recharged (The minimum amount is Rs. 200). Select the both as your needs, tick the Terms and Condition check box and click continue. (Rs. 2 will be charged to verify your card and will be added to your Amazon Pay Balance, you will not loss Rs. 2. ) Proceed as usual order placement and thereby save the card and set up Auto Reload For your Amazon Pay Account, any time you can delete your card from Your Account > Payment options > Select card and delete.
From Amazon Official Mobile App:
Open Amazon Shopping App on your phone and Sign in to your Account. Click upper left to open Main menu And then click Amazon Pay. Follow the above steps for mobile app too and set up your Auto Reload For Amazon Pay Balance.